Flowers are nature's beautiful gift. They have the power to inspire and express your love and emotions to people important to you. They make a dull environment vibrant and worth remembering because of their captivating appearance and fragrance. Flowers are present on most occasions. From Valentine's Day and wedding anniversaries to Christmas and Easter, name it. You will see flowers as decorations or gifts. We must also think that flowers are not just for humans but animals as well.

Have you ever wondered if there are any flowers your pets can enjoy? Of course, we love when our pets have fun and join in on special occasions, but don't think about safety. Are there any flowers that are safe for our furry friends? There might be more than you realize!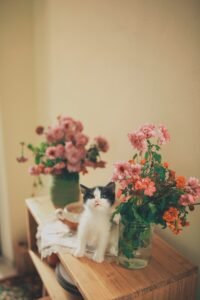 Sunflowers
Sunflowers are considered happy flowers and represent the beauty of the sun. Warmth and feel-good vibes fill your home with the sunflower. Moreover, sunflowers can attract the attention of dogs and cats as well, since they are aesthetically pleasing. Fortunately, they do not pose a serious threat to pets. Be careful not to allow your pets to intentionally eat sunflowers to avoid stomach aches. Sunflowers, however, do not pose any significant health risks.

Roses
Roses are gorgeous and enchanting, and it's no wonder they're the world's favorite flower. It is regarded as an elegant and symbolic representation of love in nearly every culture. The good news is that all varieties are pet-friendly! A rose arrangement will make your home stand out with its stunning color and perfectly formed petals. Roses should be styled in a way so they stand out as focal flowers, which enhances your arrangement's overall shape and is aesthetically pleasing. It is perfectly safe for your dog and for you to keep a bouquet of roses in your apartment, whether they were given by your lover or just for decoration.

Orchids
Tropical Asian blooms are extremely popular in pots, but they also make beautiful cut flowers that add instant sophistication to any design. Best of all, you won't have to worry about your pets being harmed by them either! There's no wonder why they are so visual-catching with their dramatic flowers in lively colors and appealing patterns. Orchids are versatile, there are flower arrangements that can be given away as gifts, but there are also arrangements specifically used for sympathy flowers.

Gerbera
It is an elegant flower that makes any space look brighter. There are several colors available for Gerberas, making them a popular flower for a variety of occasions. Gerbera daisies are colorful and pet-friendly. Reds, pinks, and even yellows are some of the vibrant colors that they bloom in. Gerbera flowers measure up to seven inches across and are found on long leafless stems.


Snapdragons
A stunning explosion of color, Snapdragons' blooms grow in an array of colors that instantly brighten any room. It is never a bad idea to group Snapdragons with other flowers or to place them in a vase by themselves. Snapdragons are non-toxic and can be placed in vases without harming your pets. It is safe to cohabitate with pets with snapdragons.


Poisoning Symptoms in Pets
It is important to keep toxic plants and flowers away from your pets when you have a superb flower or two in your home. You can place flowers on a window sill or high shelf that receives indirect sunlight. Watch for signs of poisoning, such as loss of appetite, dehydration, drooling excessively, vomiting, diarrhea, and bleeding gums if your pet has eaten something potentially toxic. The pet's problem usually resolves itself within a few days if they've consumed something they don't like. If your pet has been suffering from one or more conditions, bring and contact the veterinarian because your pet requires immediate attention.

You should choose pet-safe flowers if you plan to give a bouquet of flowers to a loved one who has a pet. Most households treat pets as members of the family. Do you have any suggestions or questions? Don't hesitate to contact or leave a message for Parfumella Flowers.
Share This Story, Choose Your Platform!