"A rose can never be a sunflower, and a sunflower can never be a rose. All flowers are beautiful in their own way, and that's like women too."– Miranda Kerr

Oh, wait, someone close to your heart is having a birthday in a few days? Are you searching for a special gift that will put a smile on your girlfriend's face and will truly make her day a better one? Is your goal of giving a present to make a long-lasting impression? Well, Parfumella Flowers is glad to have you here on board.

You are truly blessed if your darling dearest is always there for you through thick and thin, or a roller coaster road-like journey of life. Yes, accessories, clothes, sandals, and gadgets are some of the choices that you can give on her birthday. But nothing can beat the magnificent aura of dazzling flowers! Plus most ladies love to receive birthday flower gifts too! Make her feel worthy and have extra value on one of the important days of her life.
Parfumella Flowers came up with a list of sophisticated birthday flower gift arrangements for your special girl. Read along to find out.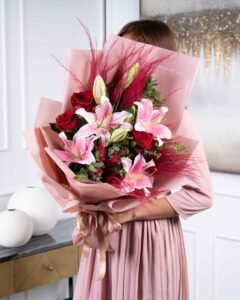 The top of our birthday flower arrangement is a Pink and Red Duo composed of pink oriental lilies, red roses, and Fuschia pampas. They are great as individuals but when combined, they make an extraordinary masterpiece that you can't imagine and will always catch attention.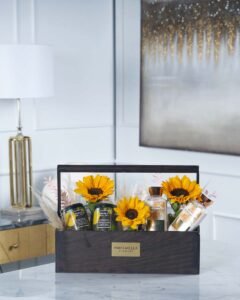 What comes first in your mind when you think of a gorgeous yellow flower? Sunflower, right? Sunflowers are present in a fascinating color yellow and an unexplainable positive aura that you can never forget. The Yellow Day arrangement has three dazzling sunflowers, two mango Mai Thai candles, and two golden sunflower body lotions. This arrangement will clear all the negative vibes that she encounters from the stress of life. Your lover will immediately display a beautiful smile the minute she'll receives this!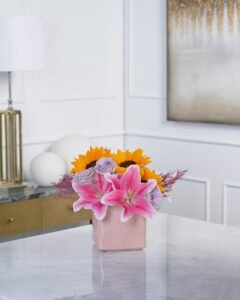 A creation that will make your dearest darling scream wow! This birthday flower arrangement has lilies, purple Ecuadorian roses, sunflowers, and a touch of Limonium placed in a small pink box. The phenomenal beauty of each flower that is combined in one arrangement will make her stare for minutes and her heart skip a beat!
Purple roses for purple lovers! Let her experience an out-of-ordinary birthday flower bouquet on her special day. She will truly appreciate this if she is fond of purple colors as well. Is she kind, charming, bubbly, and possesses elegance at the same time? Well, look no further because Purple Touch is an excellent choice for her! Place an order now and Parfumella Flowers Team will deliver this precious arrangement to your special one!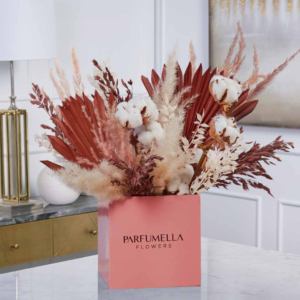 Preserved blooms and long-lasting flowers such as Bromus, pink pampas, cotton sticks, preserved Ruscus, and dried sun palm come great as one, especially when placed in a pretty pink box! Dear Gorgeous is a superb creation as a surprise gift for her special day. You can never go wrong with this masterpiece created by our dedicated and hardworking florists.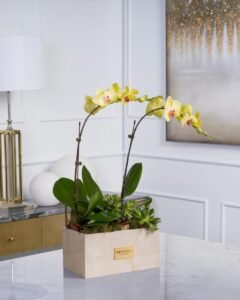 Is your girlfriend a plant lover? Then we present to you the Queen Bee creation for your queen consisting of phalaenopsis orchids with some added succulents on the side. An enchanted arrangement indeed that can be added to her plant collection at home! Just like the color of the sun, let her know how your life bursts with radiance because of her presence.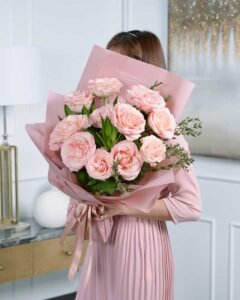 Roses never get old and are always present in every celebration you may think of. Express your fathomless love and appreciation through this heavenly creation. Rosa Esperanza is a hand-wrapped bouquet arranged by our florists with love. The goal of sending flowers is to convey emotions when words are not enough. Order Rosa Esperanza now and all she needs to do is to wait for the surprise!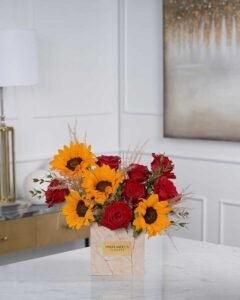 Who doesn't fall in love with these blossoms? Share some tangible sunshine and make her day a memorable one that can carve on her mind. Sunflowers and Roses create a great combination that refreshes the feeling and bursts positivity. This arrangement is perfectly placed in a box. Your dearest lover will make her heart melt the moment she'll receives this creation.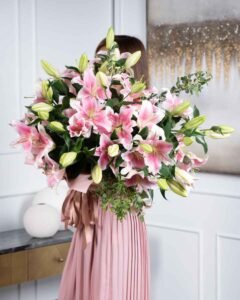 If you send this enormous stunning masterpiece, it will make her feel that you greatly appreciate and love her. She should get ready to be amazed and you will truly see through the smile on her face. This will also compliment her beauty inside and out. Is she kind and thinks of others first rather than herself? Send her this birthday flower arrangement with elegant hues of pink now.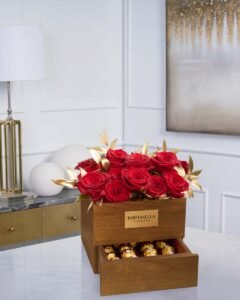 The timeless beauty of Roses screams intense happiness! Choose this drawer box arrangement of premium Ecuadorian Red Roses with a touch of gold-painted Ruscus leaves and go with sweet premium chocolates.
Have you chosen the perfect choice and a worthy way to show your effort on her special day? You may explore our Birthday Flowers Collection on our Parfumella Website. Contact us and we'll serve you to the best of our abilities.
Share This Story, Choose Your Platform!