A birthday is not just a day to celebrate or a reminder that it is not just another year older but also a time to express your love to someone close to your heart. The 18th birthday is an important milestone in a woman's life. It is a sign of growth, change, and she holds a greater responsibility. Priorities, mindsets, and points of view of different discussions are probably different than before.

When she reaches 18 years of age, she is supposed to face the challenges head-up high with a mature way of handling them. It is important to keep in mind that when things are out of sight and look black, there is always a silver lining. Have you thought of a gift that will have a long-lasting impression? To make her extra feel your love on her birthday and cheer her that everything will be alright, giving and sending flowers is a great way. Flowers have a special aura that will immediately catch her attention and appreciate the stunning creation.

Here is a list of fine and premium quality birthday flowers bouquets from Parfumella Flowers that she will surely love: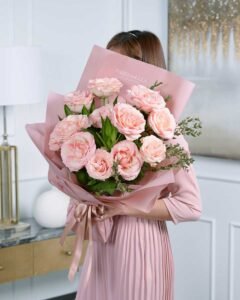 Make her day a delightful one with this birthday flower bouquet arrangement consisting of soft and pure Rose Esperance. Is she a pink lover? Then this creation with hues of pink will make her scream and she will surely fall in love. This is a great decision to engage with her lively personality! The beauty of roses captivates the heart of the receiver and that makes it an all-time favorite choice of many people. Place an order online today and we'll help you sort out things for you.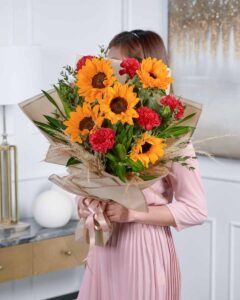 Sunflowers and carnations are great as individual flowers, but when combined, you must brace yourself because they will surprise you! There is something in this masterpiece that makes it extraordinary and stands out from all of the flower arrangements.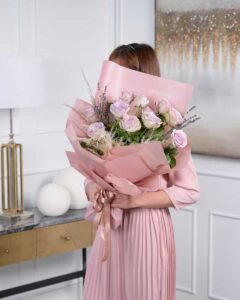 There is one person who'll always have your heart. If you cannot express your feelings with words, let flowers do the work. Purple fuses the powerful passion of red and the tranquil vibe of blue. Let her know that your love for her is strong and she is your peace in this chaotic world. Your dearest beloved deserves nothing but the best gift. Make her heart intensely burst with radiant beauty with this birthday flower arrangement.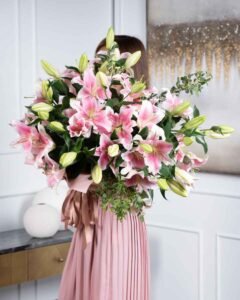 A masterpiece that leaves a long-lasting impression! Birthday is an important day and most women love to be surprised with pristine flowers. Lilies speak about admiration, compassion, and love. Sending delicate and enchanting lilies is an excellent way to pay tribute to the woman in your life's beauty and strength. Mega Lily birthday flower arrangement is worthy of your choice to send some love.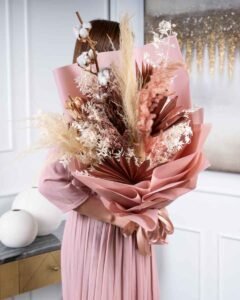 An extraordinary and charming birthday flower arrangement indeed! The impressive dried Bromus, pampas, cotton sticks, preserved Ruscus, and dried sun palm are combined in one arrangement that makes it lovely and wonderful! Do you agree? The overall look will make the receiver's day a vibrant one. What are you waiting for? Place an order now and a radiant smile will be the first thing you'll see when receiving this.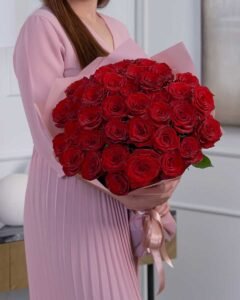 How about the timeless charm blooms of roses? Did this type of flower ever cross your mind? As the arrangement implies, her heart will beat an extra because of happiness. You'll never go wrong with the fiery red color that speaks to how strong your love is for her. Make her day a splendid one!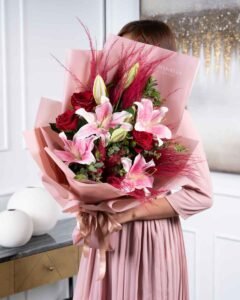 Well, here is the powerful duo and one of the popular arrangements ordered by our lovely customers. This is a combination of playful and passionate love in the shape of flowers. Are you looking for a gift? Send this hand-wrapped bouquet to your friend whose birthday is near and it will be a phenomenal day for her!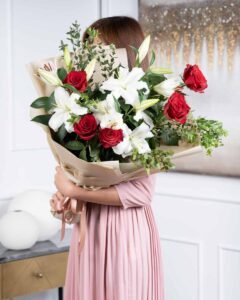 The mix of red and white creates a sophisticated overall creation. Who does not fall in love with roses and lilies right? Capture her heart with the elegant shades of blooms and make her day a memorable one! If you know her as strong and fierce on the outside but soft and pure inside, then this creation is an excellent choice for her! Grab and send this to her by placing an online order on the Parfumella Flowers website.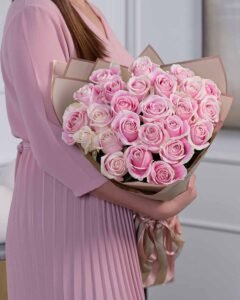 These brilliant pink roses are sure to captivate everyone's attention! By giving him this arrangement, you are wishing him a prosperous and fruitful future. With the pure and soothing vibe of this flower, you will not only lighten your recipient's mood but also let her know you love him deeply.

Which of the following birthday flowers would be most suitable for the remarkable woman of your life? Are you still in doubt? Don't forget to pick beautiful blooming creations for her that will perfectly complement her personality. For more choices, check out and explore our Birthday Flowers Collection on our Parfumella Flowers website.
Share This Story, Choose Your Platform!