"The best of all gifts around any Christmas tree is the presence of a happy family all wrapped up in each other".

– Burton Hills
Ho ho ho! Christmas is coming to town! It is celebrated with love and to spread joy. 'Tis the Season of Giving! Decorating our home is one way of welcoming and adoring the festive feeling of Christmas. For sure families are busy planning what foods will be prepared on the table, designing the Christmas tree, and the overall area of the house. Adding flower arrangements this Christmas will bring delight to any space or room and can affect the people who'll visit your home on Christmas Day.
Looking for inspiration on incorporating flowers in brightening your home this Christmas? Well, you are in the right place!
Make a statement with a centerpiece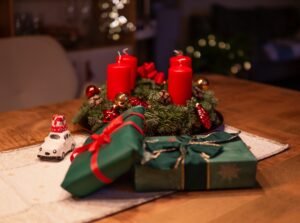 Spread the beauty, and joy of Christmas with captivating and dazzling centerpieces! Make sure to choose bright color hues to catch the attention during dining. Big blooms with a sweet scent will truly make the occasion worthy to remember!
The table and chairs set or theme must go along together. Choose a motive that is simple, and minimal but trendy and pleasing to the eyes. Add some ribbons, Christmas Acorns, balls, and stunning flowers too!
Decorate Your Wall with Christmas Garland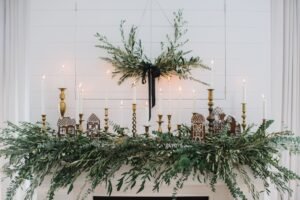 Do not forget to decorate your walls. Plain white colored walls are easy to combine with Christmas flower garland arrangement. Use a string and tie a bunch of dried flowers to make a hanging decoration. You can also use flowers that have a long-lasting shelf life.
Timeless Red Roses Scream Perfection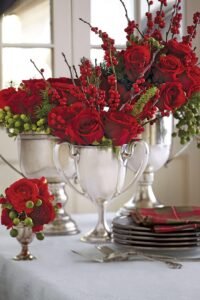 Elegant and sophisticated red roses symbolize joy, love, and warmth which reflect the theme of Christmas. Vibrant red roses are always an excellent choice and present on any occasion too!
Brighten Your Bedroom with Blossoms
Welcome the festive atmosphere with a simple Christmas flower arrangement in your bedroom. Let your guests feel at home by putting a Christmas flower creation in the guest rooms. You may put them on top of the bedside tables, and walls, or cover the sides of the clock with flowers.
Add Some Showstopper Pampas Grass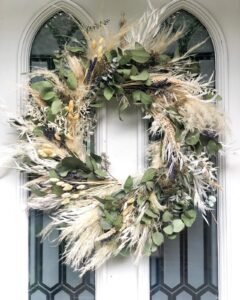 We are seeing a big comeback of dried flowers in style! Choose dried stems to create a beautiful alternative Christmas flower arrangement. You can apply this trend to your display, as it has been popular for a long time. 'Pampas grass is everywhere, so why not use it? No matter what time of the year it is, Pampas grass truly never goes out of style.
Stairs to Make people Stare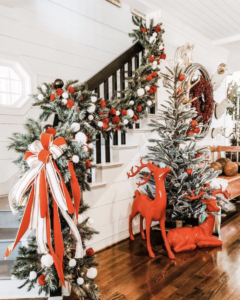 Spice up your home by placing gorgeous flowers on the handrail of the stairs. The flowers you will use must go with the Christmas theme that you have decided on. Ensure that the flowers must be well-tied to avoid them from falling off.
Set the Mood with Winter Berries and Eucalyptus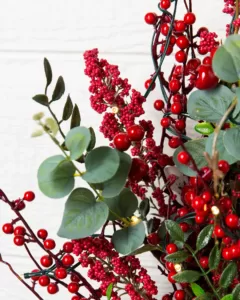 When you see Winter Berries and Eucalyptus, you will immediately feel the presence of Christmas! They look together when you put them in a vase with a touch of silver and gold plus a scented candle on the side. Can you imagine that? It is stunning, isn't it?
Majestic Flowers in a Bottle
Choose flowers that are bold and perfect for the Christmas season then place them in the transparent bottle. You may add some fairy lights with strings or ribbons that match the color scheme of the flowers. It is better to make 3 and above flower bottle arrangements and place them on the side tables of any room.
Have you planned on what design or motif you will do this upcoming Christmas? Do you need assistance in decorating your home with the dazzling presence of flowers? Please don't hesitate to contact Parfumella Flowers and we'll be glad to help you in this matter.
The Parfumella Flowers team wishes you and your family a great Christmas this year!
Share This Story, Choose Your Platform!