A lot of people spend this day at cemeteries visiting the graves of loved ones who have passed away or spending time recalling the memories they shared with them. Why do we commemorate the departed by buying memorial flowers?

In honor of All Saint's Day, bringing flowers is a classic way. Despite the sorrow and grief of losing a dearest loved one, the vibrant flowers are seen as a sign of strength and growth. Our tradition of offering flowers to the dead demonstrates how much we appreciate and care about them both during and after their lives.

To make it easier for you, Parfumella Flowers prepared some flower arrangements to guide you in choosing the right choice for your dearest one: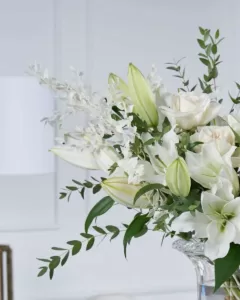 This All Souls Day flower arrangement consists of sophisticated white lilies, rose American, preserved Ruscus white, and eucalyptus parvifolia. These delicate petals and exquisite forms represent remembrance.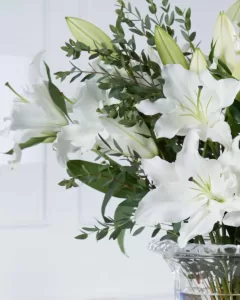 Remember your departed loved ones close to your heart by bringing them stunning For Mary arrangements. White lilies and Eucalyptus Parvifolia create a beautiful masterpiece when combined together. Place an order on the Parfumella Flowers website and express your love and care through flowers.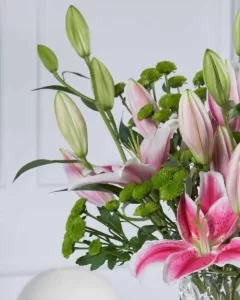 Do you have a deceased friend whose family preferred to celebrate life rather than mourn? Was Pink his/her favorite color? Their favorite flower arrangement would be this one. Lilies are one of the go-to flowers on the list. The sweet-scented and dazzling petals are in line with the definition of the flower in flower language which is sympathy, radiance, and purity.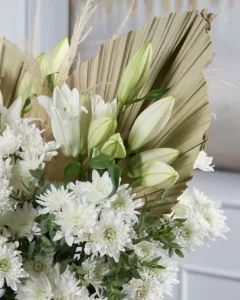 A beautiful masterpiece in a wooden box, do you agree? Thanks to our dedicated and hardworking florists, they make sure to create an arrangement that will surely speak for you. In other parts of the globe, chrysanthemums are associated with death. Therefore, chrysanthemums are popular when it comes to funeral offerings. This arrangement is a combination of white chrysanthemums, and oriental lilies, with a touch of mesmerizing dried palm and eucalyptus parvifolia. This is a lovely memorial to a loved one sure to bring smiles to all who see it.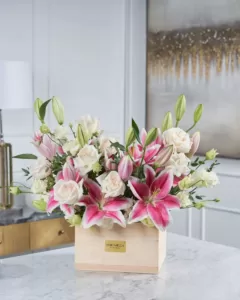 The name describes it all! This gorgeous arrangement that represents even after death, the departed will forever remain in our hearts. As a reminder of how their deceased loved ones were, the magnificent creation also symbolizes happiness and a ray of positivity.



This arrangement consists of pink lilies, green chrysanthemums, and eucalyptus parvifolia. When these flowers are combined, they make a beautiful masterpiece that leaves a long-lasting impression.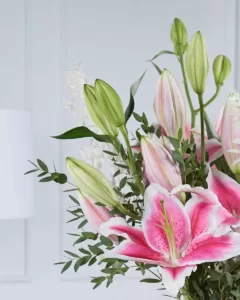 An eye-catching arrangement, right? This blooming creation is for those who are struggling to cope with the loss of someone close or for those who weren't able to say goodbye. Is there someone close to you with whom you'd like to bring flowers? Get them a flower arrangement with lilies which symbolizes friendship. Thank and honor your friend for being a constant companion throughout the rollercoaster ride of life.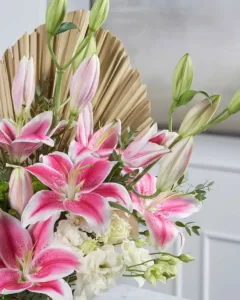 Pink lilies, white lisianthus frilled, and green chrysanthemum, with a punch of dried palm and eucalyptus parvifolia, make the Joyful Love flower arrangement. Convey your love and longing for someone who departed through the language of flowers. There are times when words are not enough to show how we feel.


These long-lasting blooms define gratitude and remembrance. Show how thankful you are for the life and bond that you shared with your departed loved one by bringing or sending this majestic creation. With just a first glance, you'll see how pure and elegant these flowers are.



How about these lovelies right here? A combination of white lilies, roe American, preserved Ruscus, and cordyline green leaves will leave you with a wow factor! This arrangement is perfect for someone close to you who guided you throughout the years. When these blooms are placed on the grave, the significance becomes deeper.


Let Flowers Express and Send Your Regards

Parfumella Flowers is dedicated and committed to helping you in picking the excellent choice to remember and celebrate your loved one's life. What are you waiting for? Place an order now and we guarantee you that we'll handle your selected flower arrangement with care.

Did you find this post helpful? You may check out and find a variety of gift suggestions on our blog.
Share This Story, Choose Your Platform!