Birthdays are one of the most exciting chapters of a person's life. It is an important event and reminder of growth and maturity. Do you know someone close to you whose birthday is coming up? Have you thought about what gift you'll give? You can express your love and bring out a vibrant smile with a thoughtful gift, personal letter, or even a simple hug and greetings. Sending captivating birthday flowers is also a great way to make her/his day extra special.
Since your special someone's birthday is just around the corner, you probably feel excited! When words are not enough to convey your feelings, you will see the joy on the receiver's face the second he/she receives it. Worry no more because Parfumella Flowers is here for you! Consider his/her style and personality when selecting an arrangement.
To help you make your choice easier, we have compiled a list of timeless and magnificent birthday flowers you can send him/her:
Color Divine
How divine indeed! The combination of vibrant sunflowers and delicate carnations makes the overall birthday flower arrangement an impressive one. A special birthday flower gift for your dearest darling. Once he/ she receives this, his/her face will immediately light up with a smile.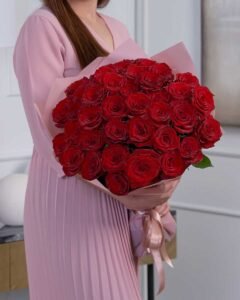 Is she a color red lover? Well, this birthday flower arrangement with two dozen premium and high-quality Ecuadorian Red Roses will make the heart of your beloved one burst with radiance! Roses are one of the flowers listed in the top classics. Express your love to him/her with this hand-wrapped bouquet by our enthusiastic florists!
The combination that you can't resist! What a dreamy creation don't you think? This bouquet arrangement holds thousands of feelings! Pink is a cute color and red screams brave personality. Is your mother or sister playful yet also strong at the same time? If yes, well look no further because this masterpiece is the perfect choice to connect with her personality. Don't forget to place an order and we guarantee you a safe delivery. Our impressive flowers are imported from the Netherlands, Ecuador, Taiwan, Ethiopia, and Kenya. Your trust is secure in our hands.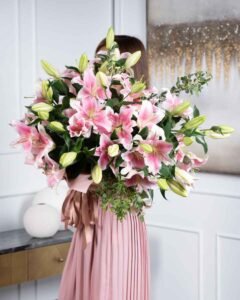 Mega gift for your favorite person who is well deserved. One of every person's dreams is to receive a hand-tied bouquet arrangement that expresses emotions when words are not enough. Flowers have the power to let the person what you want to let him/her feel. Different shades of lilies leave a long-lasting impression. What are you waiting for? Make her day spectacular with this dashing masterpiece creation.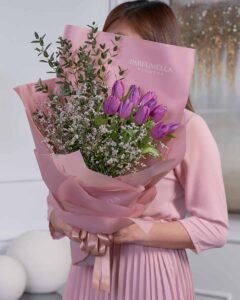 There is something magical about this one, isn't there? Tulips represent fathomless love and elegance. Flowers are not limited to ladies but also to men. Flowers are universal and always present in any event. Men love to receive flowers just like how they feel when they give them their beloved ones. This classy tulip arrangement is a worthy decision for him. Someone you know with a strong personality would enjoy this breathtaking yet simple birthday flower arrangement. This is a captivating flower arrangement that you don't want to miss!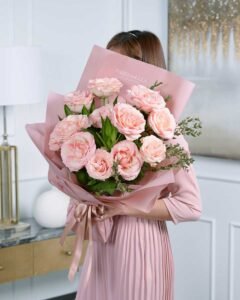 This out-of-the-ordinary birthday flower deserves to be given to someone very special on her most anticipated day! Capture her heart and let her feel your tender love and care with this sophisticated creation with rich hues of pink. This creation is something delicate and is made with love. Once she receives this, a smile will immediately show on her face.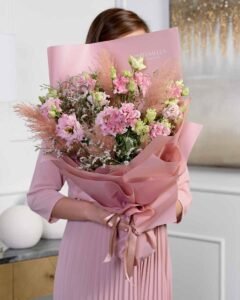 Does it get your attention? Send this pretty bouquet of lisianthus, Limonium, and a touch of pampas to someone close to your heart on his/her most awaited day. Let him/her know that he/she holds an important place in your heart. These blossoms signify that no matter what comes his/her way, you'll always remain by his/her side.
It's up to the blooms to express and tell the story! White lilies and enchanting roses are a great combination for this kind of arrangement. Lilies symbolize happiness and positivity. Each flower is a great way to show the birthday celebrant how much you value him/her presence in your life.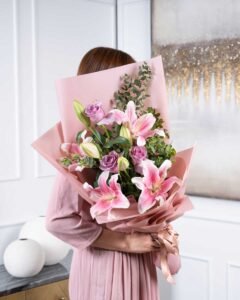 Only the very best should be given to your dearest loved one! This arrangement brings out a refreshing feeling. They will certainly understand why you chose this birthday floral arrangement since flowers communicate what's within you. She/He will surely burst into a cloud of happiness with this excellent choice. Don't ever doubt and think twice. We guarantee you that the receiver will have a delightful day.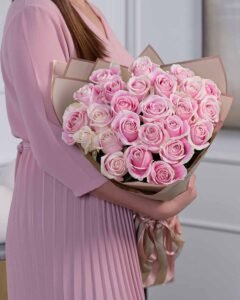 These lovely pink roses are so delicate and as pure as the heart of the receiver. You can still make your presence felt even though you're far away by sending an unforgettable birthday flower delivery. You can never go wrong with this kind of masterpiece.
Have you selected and chosen the right birthday flower present for your beloved one? Our flowers are imported from the Netherlands, Ecuador, Taiwan, Ethiopia, and Kenya so we guarantee you high-quality and premium flowers. You may place your order on our website and we can't wait to serve you to the best of our abilities.
Share This Story, Choose Your Platform!