It is no secret that flowers are some of the most beautiful things you will find in the world. Their different sizes, colors, fragrances, and shapes make our surroundings more wonderful and captivating. It's always a good idea to have flowers available for all occasions, and Valentine's Day is one of them. Valentine's Day is the perfect time to show unconditional love, care, and appreciation. So if you're looking for a stunning gift this coming Valentine's Day celebration, then flowers alone or incorporating flowers with other gifts may be a great idea as well.
Statistics show that 64% of men and 36% of women buy flowers for Valentine's Day. Did you know that 61% of men agree that they would love to receive flowers from women? What an interesting fact, isn't it? Contrary to what some people may believe, flowers are not just for women. It is not necessary to give flowers to a specific gender for them to be appreciated. Men want to receive flowers just like the reasons why they give flowers to women.

Parfumella has compiled a list of the most popular flowers to give on Valentine's Day so you don't have to worry! Read along to find out.
Roses are often associated with love. Every Valentine's Day, red roses are the most popular among all the different colors. Your enchanting feelings for that special person are symbolized by the soft petals of roses and their soothing scent. The white rose is also a meaningful way to show your other half how optimistic you are about your future together, especially if you are just starting. We have a variety of roses in our Roses Collection, so you're sure to find the perfect bouquet for your dearest! Roses will truly be a stunning Valentine's Day delivery gift. You can be assured that a bouquet of fresh roses will arrive at your recipient in a beautifully hand-crafted arrangement from Parfumella Flowers.
The Phalaenopsis flower is another gorgeous choice for Valentine's Day. As a token of your devotion and love, it will certainly brighten your darling dearest's day. Giving this to a dear friend, family member, or lover would be a thoughtful gesture. They represent love, beauty, and refinement. Various shades of pink, white, lavender and other mixtures of different colors are available. When you buy a potted plant arrangement from Parfumella Flowers, you can give your loved ones this gift if they are fond of plants.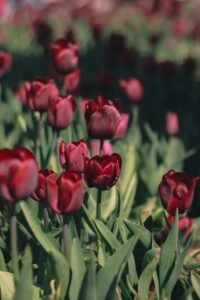 There is nothing better than tulips when it comes to giving flowers apart from roses. Similar to roses, it is associated with romantic symbolism. Despite being cut, the heart-shaped flower continues to grow in water. Bulb parts can be planted after blooming in a place with the right climate. There are ranges of colors and definitions of Tulips. If you are about to give pink tulips then this means how happy you were when your darling dearest came into your life. White tulips symbolize purity and sincerity, Purple tulips define royalty, and Orange tulips represent passion.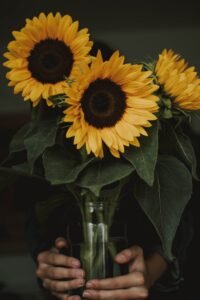 Does your darling dearest love sunflowers? Well, this flower is an excellent choice for him/her! When you think of sunflowers, the first thing that may come to your mind is a representation of the sun. Sunflowers got their name from the word "sun" because of their similarities: yellow color, formation of sun rays and petals, and a plus factor is that they follow where the sun goes. Send your darling dearest a surprise sunflower bouquet to make her feel extra special this Valentine's Day! A bright smile will appear the second she receives this delightful gift. You may explore the Sunflower Collection on our Parfumella Flowers website and choose which arrangement is perfect for your beloved!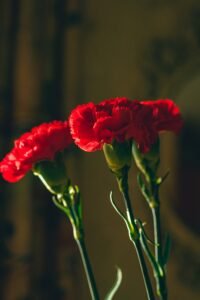 Many people believed that Carnation flowers came from the word "coronation" because of the pure history that was used in Greek ceremonial crowns. Others said that "Carnation" is from "incarnacyon" meaning "incarnation". It is common for secret admirers to give pink carnations to express admiration and devotion. An elegant gesture would be sending your girl of dreams a bouquet of carnations, especially if you have been watching her from a distance. Furthermore, this type of flower is also great for your mother, who loves you unconditionally.

Do you know what kind of flower you are going to give? Bringing a smile to someone you care about may be the best gift you can give them. Let the blooms show your love to the recipient. So what are you waiting for? Don't miss out and check out our Valentine's Collection! Place an order and our team will be glad to assist you.

Tip: Do place your order in advance to book the delivery on the same day February 14. Celebrate Valentine's day with happy hearts and smiling faces!
HAPPY VALENTINE'S DAY!
Share This Story, Choose Your Platform!