The perfect day is a dream that every couple cherishes. They spend years thinking about it and planning it ever since they started dating. Every aspect of the wedding, from the venue to the menu, needs to be carefully considered because the day will be one of the most unforgettable moments in their lives. A wedding is supposed to celebrate their love and bring them joy, happiness, and value for money.
When you think of weddings, there are a lot of different things that come to mind. couples, cake, dresses, and something else — I bet you're wondering what that is! Yes, it's flowers! Flowers are one of the things that most people don't notice when they're at a wedding but they can make or break the look of your big day.
However, little did you know that a simple bouquet can cause plenty of headaches and stress too. If you plan to tie the knot very soon, there are several different options for your bouquet, each having its advantages and disadvantages. Let's take a look and check out this article to find out more about some of the best types of wedding bouquets available.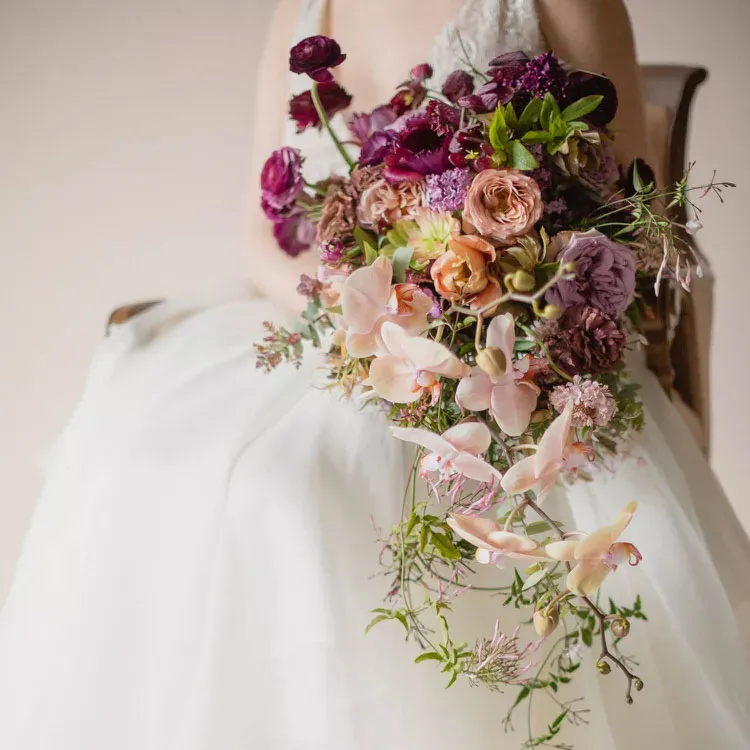 Image from: brides.com
Cascade Wedding Bouquet
This is a very popular bouquet style for weddings. It's simple, elegant, and timeless. The cascading flowers can be arranged in many different ways to suit your wedding theme or style. You can use one type of flower or several types together. It features a large flower at its center surrounded by smaller blooms on both sides. Cascade wedding bouquets are all about balance and harmonyYou can also add special touches like ribbons or crystals to make them more personalized or unique to your wedding day!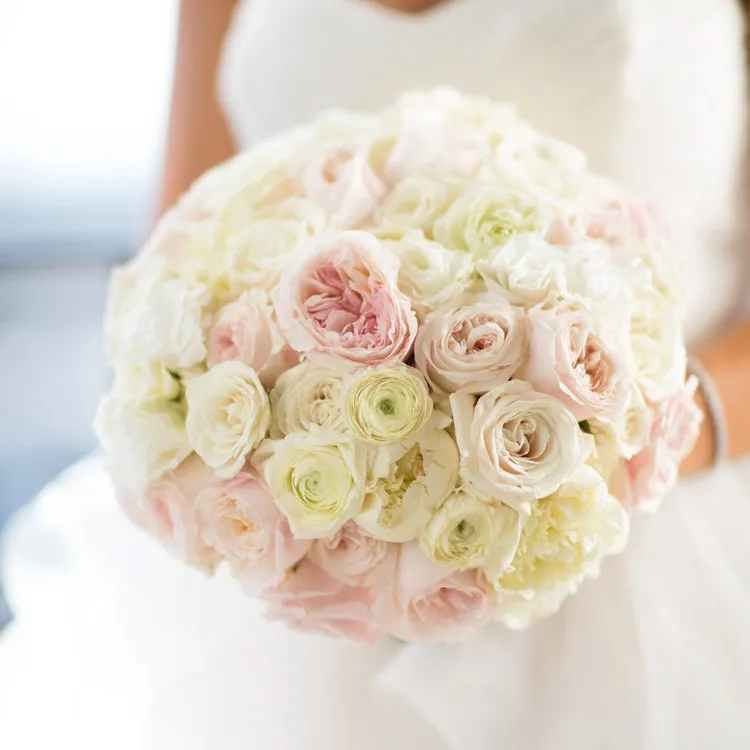 Image from: insideweddings.com
Round Wedding Bouquet
A round wedding bouquet is a classic choice for the bride who wants to look traditional but still has a unique style. Bouquets like this have been in fashion for years and they never seem to go out of style. The round shape makes it perfect for bridesmaids carrying bouquets, and the rounded edges won't poke into your sides or cause discomfort while you're standing on your feet all day. This style of bouquet is also very easy to hold, which means there's less chance of dropping it or accidentally dropping a petal. People choose roses or hydrangeas for their roundness and soft texture but there is nothing wrong with selecting other flowers to mix and match.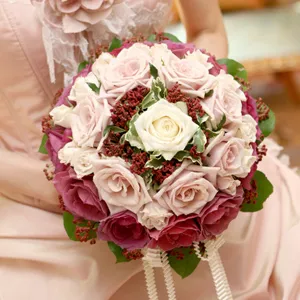 Image from: www.bremen-wedding.jp
Biedermeier Wedding Bouquet
The Biedermeier wedding bouquet is a romantic, feminine bouquet with a charming and delicate appearance. The name comes from the German word "Bieder", which means simple and plain. This type of wedding bouquet consists of a layering effect of different types and colors of flowers in a symmetrical and concentric design. They can be made more modern by adding some greenery or other elements. This allows you to add another layer of color to your wedding day by using bright green foliage or white blooms that match your bridesmaid dresses.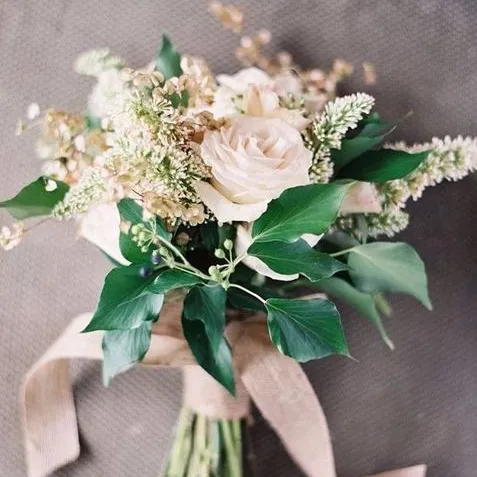 Image from: weddingwire.ca
Nosegay Wedding Bouquet
This kind of wedding bouquet is commonly for bridesmaids and flower girls. A nosegay wedding bouquet is a small, circular flower arrangement. It consists of a few flowers that are tied together with ribbon or twine which was popular in the 18th century. This bouquet works particularly well with vintage or rustic weddings, as well as with springtime nuptials.

Pomander Wedding Bouquet
A pomander wedding bouquet is made up of fragrant flowers such as lilies, roses, gardenias, and lilacs among others that represents the bride's purity, innocence, and sweetness. These flowers are arranged in a way that they look like they are sticking out of an apple core or orange skin. The bride holds the 'apple' at the end of her arm during the ceremony while her bridesmaids hold similar-looking apples in their hands as they walk down the aisle together with her.

Image from: brides.com
Posy Wedding Bouquet
A posy wedding bouquet is made up of small flowers which are gathered together to create a beautiful arrangement and can be easily carried with one hand. The flowers can be arranged in any shape or pattern and they can be made up of any type of flower usually tied together with ribbon or string. It's a great choice for shorter brides or those who don't want to carry around an awkward bundle of flowers.

Image from: www.marthastewart.com
Pageant Wedding Bouquet
A pageant bouquet is typically a larger-than-life flower arrangement that features a variety of florals and foliage that is meant to be seen from afar. If you want your bouquet to stand out in photos or on social media, then choosing a pageant bouquet is probably right for you.

Composite Wedding Bouquet
This kind of wedding bouquet is also called the Glamelia Wedding Bouquet or Carmen Rose. Composite Wedding Bouquet became popular in wedding celebrations because of their captivating and modern design that is composed of petals, buds, and smaller blooms which are pinned together to create the impression of one huge bloom. However, creating composite bouquets is time-consuming and does not come easily, but they are certainly enjoyable.
A wedding bouquet is the center of attention when considering bridal flowers and wedding decoration; it holds within its petals the key to your overall floral vision. When selecting a bouquet, two questions need to be answered: What kind of wedding bouquet do I want? and What kind of flowers should I use? Need assistance in selecting wedding bouquets? Don't hesitate to contact our team and Parfumella Flowers is glad to give a helping hand concerning this matter.
Share This Story, Choose Your Platform!